Seven Seas Navigation to conduct training in India for Panama Registry
Seafarers Training Center of Panama Registry ties up with Seven Seas Navigation to conduct STCW courses and assist in issuance of their CDC / COC.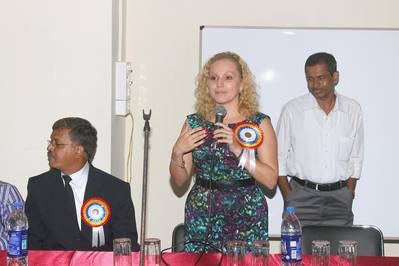 Seven Seas Navigation India Pvt Ltd., Mumbai has been authorized by the Seafarers Training Center in Panama to conduct

Standards of Training, Certification and Watchkeeping

(STCW) courses authorized by the Maritime Authority of Panama. These post sea courses will be held at their very spacious and state-of-the-art facility which was inaugurated recently in Mumbai by Claudia Galeno, Operations Manager of the National Shipping Adjusters, INC.
Speaking on the sidelines of the inauguration ceremony of the Seven Seas Navigation's Institute Ms Galenao informed, "The courses to be conducted will be both for the engineering stream as well as the nautical side. All these will be conducted at the Seven Seas Institute. The Institute has been authorized to conduct examinations on behalf of the Maritime Authority of Panama."
Shaik Shakeel Ahmed, Chairman & Managing Director of the Seven Seas Navigation said, "The Panama registry has over 8,200 vessels under its flag making it the largest and oldest flag ship registration provider worldwide. Initially we will be conducting around 25 post sea training courses for officers. Already registration for the first batch is fast filling up and the course for this first batch will commence this week."
He explained that the Seafarers Training Center (STC) has its principal focus in training maritime personnel, especially seamen, officers and captains. STC has the recognition from the Panama Maritime Authority & International Merchant Marine Registry of Belize (IMMARBE) and the International Maritime Organization as well. Seven Sea's training facility in Mumbai has been inspected by STC and authorization given to conduct the courses.
Seafarers Training Center INC. is another associated company of (NASHA) which provides training to Seafarers STCW 78/95 for up gradation of licenses. Thousands of Seafarers benefited from (STC) services and became Officers/Engineers/ Masters of International repute. To meet the requirement of ship owners for their vessels, STC provides Panama /Belize licenses under the STCW 78/95 for all white list countries nationals."
Seven Seas Navigation India Pvt Ltd will henceforth take the responsibility for arranging to forward applications for CDC and COCs and obtain these through NASHA. Mr Ahmed pointed out that earlier there was a lot of delay in obtaining CDC. "After an application was received for Panamanian CDC from a seafarer, the consulate would issue a blue chit. After that they had to wait for 60 days because the applications had to be routed through their Manila office. But now we will be able to forward the applications directly to the Panama Maritime Authorities and obtain CDCs in 30 days.
Seven Seas Navigation India also offers ships related services such as ship manning, offshore project personnel's, marine services and advice on selection of vessels, buying & selling of vessels, ship charter and ship repairs. The company has a Quality Management System developed and implemented, and certified by ABS Quality Evaluations, Houston, USA.
Panama Registry is the second such overseas registry making entry into India. In January 2008 the Marshall Island Registry set up shop in India offering an alternative conduit and a fast track mode for Indian seafarers wanting to get their Marshall Islands endorsements by seafarers joining a Marshall Island flagged vessel. The office in Mumbai provides every service related to a Maritime Administration. The Marshall Island registry has granted recognitions to quite a few maritime training institutes in India - all of which are leading ones in the country - it has offered a major boost to the aspiration of those Indians wanting to complete STCW courses to enter the shipping profession.