Chesapeake & Delaware Canal
An important and historic waterway on the eastern seaboard of the United States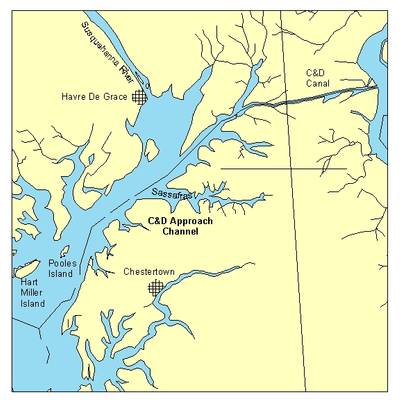 A canal connecting Chesapeake Bay and Delaware Bay was envisaged as early as the mid-seventeenth century, when it was realized that the two bodies of water were separated only by a relatively narrow strip of land.
A canal company was first founded in 1802, but collapsed two years later due to a shortage of funds.
Construction began in earnest in 1824 under a joint stock company where the federal government was the single largest investor.
When completed in 1829, the canal ran from Delaware City westward to the Elk River in Maryland.
The navigation channel was 14 miles long, ten feet deep, 66 feet wide at the waterline and 36 feet wide along the bottom.
It included four locks, each 100 feet long and 22 feet wide.
Originally, mules and horses were used to move most vessels through the canal.
As traffic through the canal increased, it became apparent that major improvements would be required.
In 1919, the federal government purchased the canal from the joint stock company.
By 1927, the eastern entrance had been moved south to Reedy Point, Delaware.
All the locks were removed.
The sea level canal was widened to 90 feet and deepened to 12 feet.
Between 1935 and 1938, it was widened to 250 feet and deepened to 27 feet.
The canal is now 450 feet wide and 35 feet deep, making its dimensions compatible with those of the St. Lawrence Seaway.
Currents through the canal can change rapidly, as can the weather.
Many ships transiting the Chesapeake and Delaware Canal utilize commercial pilots.
Delaware state pilots board before the ship enters the canal from the Delaware River.
At Chesapeake City, the Delaware pilot departs and is replaced by a Maryland pilot, who takes the ship to the Chesapeake Bay.
The US Army Corps of Engineers operates and maintains the C & D Canal.
It also operates a small museum at Chesapeake City, located in the original pumphouse for 1829 lock at that site.