Chowgule's ship-lift fast becoming a reality
With new ship repair facilities being made available ship owners can get their ship repaired nearer home instead of having to depend on neighboring countries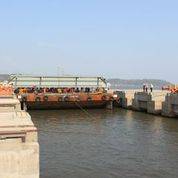 Mid-way between Mumbai and Goa on the West coast of India, a new ship-lift facility being constructed by the Chowgule group, is fast becoming a reality. Situated adjacent to the group's Angre Port, the repair yard will have the capacity to handle six ships simultaneously of up to 10,000 DWT size ship. This integrated ship repair facility will be able to accommodate all kind of activities including electronic navigation, underwater, etc. Once commissioned in another month or two it will have the highest standards of operation in keeping with the needs of the most demanding ship owners.
With the severe shortage of ship repair facility in the country, this will be a windfall for ship owners' since presently they have no other alternative but to send their vessels all the way to the Middle East or Singapore for repairs. The few ship repair yards in existence in the country hardly make much of a contribution.   
Having closed all their dry docks Mumbai port is left with only one facility where repairs are being carried out, but ship owners have to contend with the long wait list. Goa on the other hand has some dry docks but they are being used mostly for barge construction. The only one making some significant contribution to repairs is the ship-lift facility of Larsen & Toubro Limited (L&T) at Kattupalli, Tamil Nadu. With its lifting capacity of 18,500 tons it is able to handle bigger vessels. But at the moment it is seeing mostly to the demand of the defence, coast guard and to some extent commercial vessels. Kandla has a floating dry dock but ship owners give a wide berth because they are expected to bring in all the equipment, workers, etc and handle the repair work themselves. Bharati Shipyard's floating dock at Dabhol having 16,000 tonnes lifting capacity has just started functioning. Modest Infrastructure has two ship repair yards at Bhavnagar but both are of limited capacity and Pipavav Shipyard's massive dry dock is being restricted for new building.     
The Chowgule's repair yard will help cater to the large number of offshore vessels.  There are almost 300 ships that are operating off the West coast at Bombay High, Krishna Godavari basin on the East Coast and other sites. At present Chowgule's repairs yard will be a big relief as they will save time and money for offshore operators.
"Vijay Chowgule, Chairman of the Chowgule group said, "Presently ships lose 6 to 7 days to sail to the nearest repair facility overseas. Now once our repair facility is in place it will require only about 2 to 3 hours to reach and have the repairs attended to. They will also be a big saving in cost."
"Ship repairs business is comparatively lucrative to ship building since 80% to 90% payment is received immediately and the remaining comes after the completion of the task," informed one of the players from the ship repair industry. "But in the case of new building, several ship yards have suffered because much of the payment got delayed or not received at all. However, it is being felt that with ship yards going without orders they are likely to branch out into the refurbishment and repair sectors of the business.