Cruise of the Corwin
An 1881 exploratory voyage in the Arctic ocean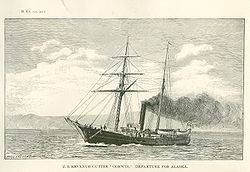 The United States Revenue Cutter (USRC) Thomas Corwin was built in Portland, Oregon in 1876, becoming the first federal government vessel built in the state.
She was finished and commissioned in San Francisco in 1877.
San Francisco remained her homeport for her entire period of government service.
The Corwin was devoted almost exclusively to patrolling and law enforcement in the new Territory of Alaska, particularly the Bering Sea.
In 1881, the Corwin was assigned to search the Arctic Ocean north of Siberia for the USS Jeanette.
The Jeanette, commanded by Lieutenant George DeLong, had departed San Francisco on July 8, 1879 in an attempt to sail to the North Pole.
It was last heard from on August 27, 1879.
Because the Corwin would be sailing into the largely unexplored far north, it was decided to embark a scientific team to gather information on this new environment.
The team consisted of John Muir, Irving Rosse, and Edward Nelson.
John Muir was a well-known but largely self-taught naturalist.
Irving Rosse was a medical doctor and anthropologist.
Edward Nelson was a naturalist and ethnologist.
The search for the Jeanette was unsuccessful.
Ironically, the Jeanette, which had been trapped in pack ice for two years, was crushed and sank in the Arctic Ocean in June 1881.
The survivors stumbled ashore in Siberia in September.
The Corwin, unaware of these developments, explored the Arctic Ocean north of Siberia, as well as visiting numerous locations along the coast of Alaska.
It made the first recorded landings on Wrangel and Herald Islands, claiming them for the United States (a claim never pursued by the US Government).
Following the return of the Corwin to San Francisco, Doctor Rosse published "The First Landing on Wrangel Island: with some remarks on the northern inhabitants" (1883).
Edward Nelson published several papers in scientific journals.
John Muir became deeply involved in the preservation and protection of the Yosemite Valley and the leading light in the eventual establishment of Yosemite National Park.
His journal entries, newspaper articles, and other papers regarding the 1881 voyage were finally assembled into "Cruise of the revenue steamer Corwin in Alaska and the N.W. Arctic ocean in 1881" (1917), published three years after John Muir's death.
The book is known better today as "Cruise of the Corwin".