Locked Away
There's a rift between Locks and the Towboats that pass through them. I wouldn't have known such a rift existed if it weren't for my trip on the Upper Mississippi the week before last. There is a good amount of waiting while a tow is passing through a lock and it used to be that a towboat crew could climb over the lock wall and get a drink or use a pay phone, or just stretch their legs. Not anymore.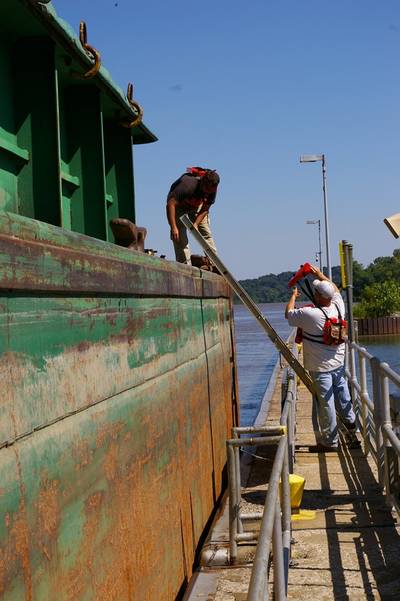 After 9/11 security at locks on the inland waterways came down hard. Most locks won't allow crew changes, which is unfortunate because they are the perfect location for it. The tow is already stopped, it's easy to step onto the lock wall from the tow, and there are always roads to and from the facility. Instead towboaters have to manage some awkward ways on and off the boats sometimes, using skiffs or catwalks, wading through mud, to get mariners to the side of freeway if their lucky, or close to a country road somewhere. Some locks don't even allow deckhands to climb up on the lock wall to hold the tow line while the barges pass through the gates.

The locks were constructed for the primary purpose of letting commercial traffic through a damed area. Security may be necessary sometimes, but it would have been nice if those post 9/ll chain link and barbed wire fences had left a small section of the lock wall free where mariners could get to waiting vehicles outside the Corps of Engineers' premises.

And speaking of those chain link fences, for an industry that already struggles with anonymity, fencing out the public from what used to be a tourist destination, watching tows go through the locks, hurts all the more. The crew members that were around before 9/11 said they missed the days when they could chat with tourists and wave at the kids who were getting a first hand look at a career on the river.

I understand the need for security, but it seems that a little more consideration for the towboat industry could have easily been given.