Nikumaroro
A small Pacific atoll and a footnote in history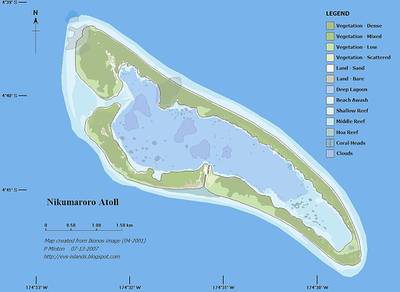 Nikumaroro (previously known as Gardner Island) is a small coral atoll in the central Pacific Ocean situated just south of the Equator and just west of the 180th meridian.
It lies in the Phoenix Island Chain and is part of the Republic of Kiribati.
It is approximately four miles long and one mile wide, with a lagoon in the center.
The highest elevation is just a few feet above sea level.
There is no good anchorage for vessels and landing on the island is difficult in all but good weather.
The predominant plant life consists of coconut palms, scrub brush, and low flowering plants.
Sea birds nest on the island, but must contend with coconut crabs.
There is very little fresh water, with the result that the various colonization attempts have all failed.
The first recorded sighting of the island by a European was in 1824.
The island was roughly charted by the United States Exploring Expedition in 1840.
In 1856, it was claimed by an American company under provisions of the Guano Islands Act, but this claim was not accepted by the US Government and there is no evidence that the island ever contained any significant quantities of guano.
The island was claimed by the United Kingdom in 1856 and attempts were made to establish a small coconut plantation.
Structures were built and 29 Micronesian natives were settled there.
The project failed within a year.
In 1929, the British freighter Norwich City, with a crew of 35, grounded on the island's reef.
In the attempt to get ashore, eleven crewmen died.
The survivors stayed in the partially collapsed coconut plantation structures until they were rescued several days later.
In 1938, the British Government again tried to establish a settlement on Gardner Island, but this was abandoned after a year.
During World War II, the US Coast Guard operated a Loran station on the island.
The island's name was officially changed to Nikumaroro when Kiribati gained its independence in 1979.
Some contend that Amelia Earhart and Fred Noonan landed on the island in July 1937 while attempting to make landfall on Howland Island, several hundred miles to the north.