RiverNotes: Wrapping up My River Trip
I'm home now after five days on the Theresa Wood riding up the Upper Mississippi and three days on the Thomas E. Erickson riding down the Illinois. I couldn't have learned as much as I did in those eight days if I'd spent a year on phone interviews with towboat companies.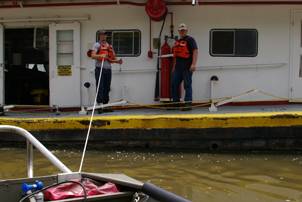 My inland waterways education included breaking the tow to get through locks, rearranging the tow to drop off and pick up barges, making tight bridges, conducting safety training, and innovative ways to board and debark a vessel. Not that I actually did any of those things myself, except the last one. 

I also toured AEP River Operation's headquarters outside St. Louis, Missouri. I sat in on a meeting as dispatchers wrestled with the logistics of getting the right amount of barges to and from various points on the Ohio River in time to meet customers' needs. All the while they were being pulled into other conversations about the logisitscs of getting boats in and out of the yard and other necessities.

I owe a special thank you to Mark Knoy and Sharon Tharp of AEP River Operations, Debra Colbert of Colbert Communications, Captain Rusty Joyner and the crew of the Theresa Wood and relief Captain John Towns and the crew of the Thomas E. Erickson, for making this trip possible.