Seattle Activites: PMI, WISTA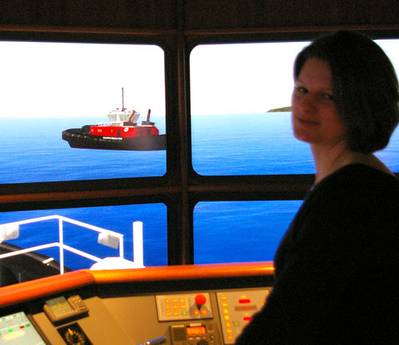 I've been spending a lot of time in Seattle lately, neglecting my sleepy little corner of Bellingham, Wash. Most recently I traveled to the Pacific Maritime Institute for a lesson on their Z-Drive tug simulator from Jeff Slesinger - mariner, author and instructor. After a brief intro and two hours at the controls I was able to push my little tug alongside a moving tanker without sinking either of us. Not too terribly bad for someone with next to no operational experience and just a few years of administrative duties in the Coast Guard.

Today I'm headed back to Seattle to attend a local WISTA business meeting (Women in Shipping & Trading Association) to talk about the possibility of the Pacific Northwest region creating it's own branch, separate from the WISTA West Coast branch. As a group, the Seattle WISTA members are highly geographically concentrated and able to break away for occassional business and vessel tours. I believe having another branch on the West Coast might give our region a little more influence. Email me at rainaclark@marinelink.com if you're involved in the maritime trades and would like to know more about WISTA.