Shipyard Efficiencies - Submarine Construction
Northrop Grumman delivered PCU New Mexico to the Navy 4 months early.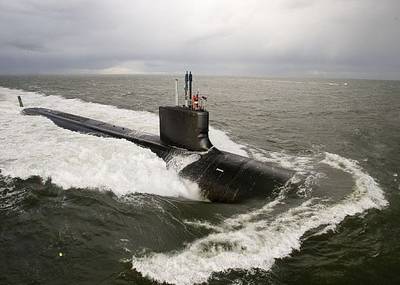 The Navy took delivery of its newest attack submarine, PCU New Mexico (SSN 779), from Northrop Grumman Shipbuilding (NGSB) Dec. 29, four months earlier than its contract delivery date. New Mexico is the sixth Virginia-class submarine and the third delivered by NGSB.

USS North Carolina (SSN 777) and USS New Hampshire (SSN 778), the two submarines delivered prior to New Mexico, were completed after 82 and 71 months, respectively. New Mexico completed construction in just 70 months.

New Mexico's delivery in 2009 wraps up a successful year for the Virginia-class program. Earlier accomplishments include beginning the construction of PCU North Dakota (SSN 784) March 2; the keel-laying ceremony of PCU California's (SSN 781) May 1; USS Texas (SSN 775) completion of the Virginia-class submarines' first Arctic Ocean testing in November; transfers of USS Hawaii (SSN 776) and Texas to their new homeport of Pearl Harbor in July and November respectively; and the christening ceremony of PCU Missouri's (SSN 780) Dec. 5.

Virginia-class submarines are flexible, multimission platforms designed to operate in both open-ocean and littoral waters. Their inherent stealth, endurance, and firepower enable them to support the United States seapower core capabilities of forward presence, deterrence, sea control, power projection, and maritime security.