Strategic Local FPSO Builders Chosen
With the intention of making a more efficient pre-salt FPSO production in Brazil, Petrobras had selected the Rio Grande Shipyard works and dry-dock to be their FPSO production center.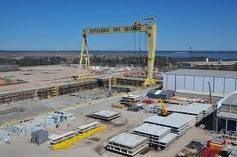 There was still a need for a tender process to select which local company would be responsible for the construction process of the first 8 FPSOs to be built from a total of 40 FPSOs originally calculated to be needed for the pre-salt development.
These units are part of the new strategy for the construction of production units, designed to simplify projects and standardize equipment. Producing identical hulls in series will accelerate the construction phase, and allow economies of scale and cost optimization. The two contracts totaling $3.46 billion cover the 8 hulls for the platforms to be used in the first phase of the production development for the pre-salt area in the Santos Basin.
Brazilian construction giant Engevix Engenharia S.A. and Swedish FPSO and Platform builder GVA were the tender winners. Engevix had bought the Rio Grande shipyard from Wtorre engineering in July, in a business transaction worth around $240 million. In order to compete for this major building contract the company made a strategic partnership with Swedish builder GVA, which has vast FPSO building experience gained from over 100 projects in more than 20 countries, GVA is one of the the world leading marine and offshore design company for semi-submersibles and FPSOs.
Each FPSO will be able to process up to 150,000 barrels of oil and 6 million cubic meters of gas per day. All units are expected to start operating by 2017 and to reach the production targets set in Petrobras' Business Plan for the pre-salt area. The expectation is that these platforms will add about 900,000 barrels of oil per day to domestic production when operating at maximum capacity.
The hulls will be built at the Rio Grande Naval Pole in the state of Rio Grande do Sul, with local content expected to reach around 70%. The first steel shipments will take place in January, and hull constructions will start in March. The first two hulls will be delivered in 2013, and the others in 2014 and 2015.
Of the eight units, six will be operated by the consortium formed for Block BM-S-11, where the Tupi and Iracema areas are located. The two others will be operated by the consortium formed for Block BM-S-9, where the Guará and Carioca fields are located. Block BM-S-11 consortium is operated by Petrobras (65%), in partnership with BG E&P Brasil Ltda. (25%), and Galp Energia (10%). Block BM-S-9 consortium is operated by Petrobras (45%), in partnership with BG E&P Brasil Ltda.
(30%), and Repsol Brasil S.A. (25%).
This is a very important project for Brazil as it is the first major FPSO production line to be developed in the country and in all of the Americas for that matter. It will bring a modern design and construction philosophy unheard of in these parts and will relieve Brazil from its dependency in foreign shipbuilders for major FPSO construction, creating local jobs and valuing local knowledge. The 8 FPSO hull projects alone are expected to create around 7 thousand jobs. The project is also strategic for the timely development of some of the pre-salt fields in Brazil.