Vessel collision accidents in China
Recently there are too many ship accidents happened in China, most of accidents are caused by the heavy fog.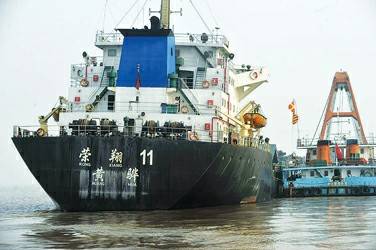 December 6, 2013 morning, the two vessels "MV XIUMEI TIANJIN"  and "JIA LI HAI" collided in sea area of Zhejiang Zhoushan.
The DWT
100,000
cargo ship "JIA LI HAI" owned by China COSCO was driving to Laotangshan port when got collision with 168 m long container ship

"MV XIUMEI TIANJIN".
"JIA LI HAI" cargo ship lost power due to badly damaged in larboard living zone. Fortunately nobody got injured.
Zhejiang Maritime Rescue Administration organized the joint salvage work with East Sea rescue Bureau. 12 tugs and 4 cleaning vessels were sent to the accident site. In the afternoon , "JIA LI HAI" cargo ship was towed to shallow water and successfully anchored.
It is said "JIA LI HAI" is still taking in water but will not sink. No comments on the accident reason yet.
Recently the heavy fog in China caused many vessel collision accidents. In December 5, one 100 m long cargo ship

"

Rongxiang 11

"

 full loaded with 17,000 tons coal collided with one chemical cargo ship in Baoshan route of Yangtse Rive.

"

Rongxiang 11

" rear part took in water by bad damage.
In December 6, in Anqing part of Yangtse Rive, two sand barges collided due to heavy fog. One ship sunk with two people missed.