James A. Watson
Director of the Bureau of Safety and Environmental Enforcement (BSEE)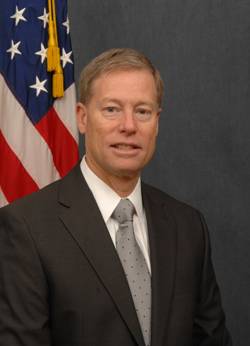 Your appointment as BSEE Director is a natural progression from your previous billet as U.S. Coast Guard Director of Prevention Policy for Marine Safety, Security and Stewardship. What's different about the two positions and where do they mirror one another?
Looking at both positions, I think there are more similarities than there are differences. In both BSEE and the Coast Guard, my top priority has been the safety of the crew members offshore. I want to be sure they are able to return to their family and loved ones when the job is done. That's what keeps me going each day. There are definitely subtle differences within the missions of the Coast Guard and BSEE, and I'm learning a great deal about the offshore oil and gas industry in my current position, but the overarching responsibility for safety at sea stretches between the two agencies and has helped motivate me as the BSEE Director.
 
What do you hope to bring from the Coast Guard Safety SOP to improve BSEE oversight of the industries they regulate? What can BSEE teach your former employers?
In the Coast Guard, we often talked about our responsibility as the rescuer of last resort. When there is a life threatening situation, the Coast Guard often gets the call. The organization does well to respond to difficult situations and has a bias towards action. If there is anything I have brought with me to BSEE, it's that bias towards action. I want us to acknowledge that we will be placed in difficult situations and that we should prepare for them. We should be leaning forward at all times and be ready to respond, even though the type of response BSEE does is quite different than the Coast Guard. BSEE has an excellent team of very specialized scientists and engineers and we utilize those skills each and every day. The experience they bring   makes us more than just a regulator; it also makes us offshore oil and gas experts. I think the Coast Guard can benefit greatly from tapping this skill set from time to time. The exchange of information and training has been ongoing between the two organizations and I want to be sure that continues and is strengthened where possible.

The Bureau of Safety and Environmental Enforcement (BSEE) was one of the two agencies to succeed the Bureau of Ocean Energy Management, Regulation and Enforcement (BOEMRE) on Oct. 1, 2011. Why were the roles split out? What role does the Bureau of Ocean Energy Management (BOEM) now have?
On Oct. 1, 2011, the Department of the Interior formally established BSEE and BOEM to carry out the offshore energy management and safety and environmental oversight missions that were formerly under the jurisdiction of the Bureau of Ocean Energy Management, Regulation and Enforcement. The establishment of BSEE and BOEM marked the completion of the effort to reorganize the former Minerals Management Service (MMS).
The Deepwater Horizon blowout and resulting oil spill shed light on weaknesses in the federal offshore energy regulatory system, including the potential conflicts in the three missions of MMS: resource management, safety and environmental protection, and revenue collection.
BSEE is responsible for safety and environmental oversight of offshore oil and gas operations, including permitting and inspections. Our functions include the development and enforcement of safety and environmental regulations, permitting offshore drilling and production, inspections, oil spill research and response, environmental compliance, and engineering-oriented research.
BOEM is responsible for managing the environmentally and economically responsible development of the nation's offshore resources. Its functions include offshore leasing, resource evaluation, review and administration of oil and gas exploration and development plans, renewable energy development, National Environmental Policy Act analysis, environmental studies, and environmentally-oriented research.

The maritime industry – offshore service providers and energy producers alike – are concerned about the pace of permitting in the U.S. Gulf of Mexico. How much does the safety oversight work emanating from BSEE affect this pace, what can be done – from industry and/or government – to accelerate it?
In regards to offshore permitting, BSEE will continue to review all applications thoroughly to ensure that our enhanced safety standards are being met. I'm committed to rooting out inefficiencies and making the permitting process as straightforward, predictable, and understandable for industry as possible.
It is in our country's interest to have a robust offshore oil and gas industry, and I'm pleased to see reports of new rigs coming into the Gulf and an industry becoming increasingly optimistic about the short and long-term outlook for their region. However, I will not measure success for BSEE by the rate at which we issue permits. Permitting is an essential part of our safety mission and we are obligated to review each permit carefully to ensure that it meets the requirements for safety and environmental protection and resource conservation. We will conduct thorough reviews that ensure that the applicant is meeting all the enhanced safety standards put in place after the Deepwater Horizon, and that they can respond effectively in the event of a worst case scenario.
BSEE has worked very hard to help industry better understand the requirements and improve the efficiency of the permit application process. Perhaps most significantly, BSEE held permit processing workshops, which has helped the quality and thoroughness of applications to steadily improve. We published a permit application completeness checklist to make it clear to industry what information is required and reduce the frequency with which operators submit incomplete applications. We have established priorities for reviewing permit applications – assigning the highest priority to permits for ongoing operations or emergency operations, such as relief wells. We have also allowed authorized users of our online permit application system to track the status of their applications.  This answered the call from many operators for greater transparency in our permitting process. As a result of these steps, and the industry's increasing familiarity with the process, permit review times have decreased significantly in the past year. Rigs that have left the Gulf of Mexico are continuing to return, new rigs are being contracted, and we are starting to see a small inventory of unused drilling permits develop.  In an effort to continue this transparency and cooperation, we will hold another workshop this spring to discuss permitting and oil spill response plans.
 
BSEE and the U.S. Coast Guard recently inspected (jointly) an offshore rig head for Cuban waters. Environmentalists and industry stakeholders from this side of the pond are understandably worried about the safety of that rig and the readiness of the Cuban authorities to respond in the event of a Macondo-type disaster. How did you find the rig's condition? Is it up to the rigid standards now being imposed on similar U.S. GOM assets and what steps are being taken (can we do anything at all?) to ensure that a pollution incident in Cuban waters will not impact the domestic environment or U.S.-based GOM operations?
BSEE personnel found that the rig generally conforms to U.S. safety standards, and that the blowout preventer passed the tests performed on it, including the critical stump test. They did find some minor issues regarding safety items, including alarms, signage, personal protection equipment, and equipment placement that required adjustment before the rig would have fully adhered to U.S. regulations. Repsol indicated that it would address all of those items, and in follow-up conversations they have confirmed that they have done so.
Moving forward, the U.S. is engaging in continued multilateral engagement with countries in the Caribbean – including Mexico, Jamaica, Cuba, and the Bahamas – as a way to share processes and practices related to oversight of private sector drilling activities to facilitate oil spill prevention and response, and gain information on the progress of drilling plans and activities. Sharing of best-practices is the best way for all countries in the Caribbean to ensure safe operations, and is similar to our interactions with other countries that have active offshore drilling programs.
 
BSEE is responsible for enforcing safety and environmental regulations for oil and gas operations on the Outer Continental Shelf. BSEE's functions include permitting and research, inspections, offshore regulatory programs, oil spill response, and the newly formed training and environmental compliance functions. That's a lot of responsibilities on one plate – tell us about the qualifications of your inspectors. Where do they come from and are they up to the task?
BSEE inspectors come from various backgrounds, including recent graduates and former industry employees. We are always recruiting subject matter experts to bolster existing expertise within the agency, specifically looking for expertise in well operations, production operations, safety and environmental management systems, accident investigations, measurement systems and deepwater drilling. 
Our inspectors are our front line employees and are experts in their field. Theirs is a critical job, and they go offshore daily to not only enforce rules and regulations, but also to impress upon operators the importance of safety. To help with this critical mission, we have increased the number of inspectors by 50 percent since April 2010, and the number of engineers, who also perform critical safety functions, by nearly 10 percent.
With so many new inspectors entering BSEE, and with our existing inspectors being asked to do more to ensure that industry is complying with the strengthened post-Deepwater Horizon safety standards, training and continuing education is more important than ever. That is why we established the National Offshore Training and Learning Center, which has so far trained two groups of new inspectors through a core curriculum in offshore inspections. We are also now providing our inspectors with new equipment and tools, including handheld computers, to make our inspection process more efficient and effective.
I'm extremely proud of our hard working inspector force. They are all skilled in the different facets of offshore operations and have shown a can-do attitude that is key to excelling in this challenging profession.

The predecessor of the two existing regulatory bodies for the offshore energy industries was roundly criticized in the wake of the Deepwater spill of 2010 for being too close to the industry that they regulated and also for not having the competence to do the job right. Where does BSEE – standing up in October 2011 – differ from that perspective? Talk about progress and improvements to the process, to date.
The employees of the former Minerals Management Service were, with isolated yet well-publicized exceptions, an extremely committed group of public servants that dedicated their lives to their communities and their nation, often foregoing much higher salaries they could have earned in the oil and gas industry. The need for reform did not stem from the actions of these dedicated professionals. It arose from outdated regulations, an inability to match the pace and scope of the offshore industry's growth, and leadership that was often forced to focus on one of several fundamentally different priorities to the detriment of the others. The reorganization of MMS by Secretary Salazar into BSEE, the Bureau of Ocean Energy Management, and the Office of Natural Resources Revenue was designed to address these issues and allow the employees of each agency to apply their expertise with clarity of mission.
Nevertheless, the isolated examples highlighted potential issues that we chose to take strong action to address. Since the spill, a tough recusal policy was instituted that has reduced the potential for real or perceived conflicts of interest in our enforcement programs. Under the policy, employees must notify their supervisors about any potential conflict of interest and request to be recused from performing any official duty where such a conflict exists. Our inspectors are now required to recuse themselves from performing inspections of the facilities of former employers. In addition, our inspectors must report any attempt by industry or by other BSEE personnel to inappropriately influence, pressure or interfere with his or her official duties.
BSEE also has an Investigations and Review Unit, which promptly responds to allegations or evidence of misconduct and unethical behavior by our employees, and aides in the investigations of alleged misconduct by oil and gas companies.