Kevin Humphreys
Marine and Offshore President, the Americas, Lloyd's Register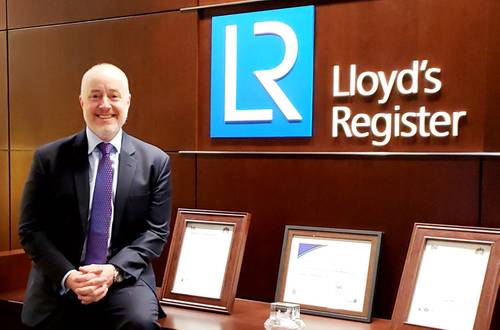 With $1 billion in turnover and 7,100 employees globally, Lloyd's Register is on a mission to grow. Earlier this summer it tapped Kevin Humphreys to lead its Americas business, which includes 30 offices in 14 countries, 571 employees and about $60 million in annual revenue.
By Greg Trauthwein

Kevin, looking at the Americas, where is Lloyd's Register traditionally strongest?
One of our core business sectors in the Americas is the cruise sector (with about 35% of global construction market share). We also have a large presence in Canada, (as the Canadian Navy and Coast Guard) rely heavily on LR for their building standards and risk management. Lastly, I would (broadly categorize) complex projects in the offshore sector.

When you look at LR in the Americas, where do you see weakness, and what is your strategy to improve?
That's a fair question. One of the places we're investing significantly is platforms, digital platforms, both on our internal processes, and as that flows out to the external processes for our customers. We want to be able to deliver bread-and-butter services to our customers seamlessly, painlessly and efficiently. I'm used to being in companies with great, smart, technical people, very smart engineers, very good at what they do. But you need to create a cultural where they understand what they do in terms of the value of the clients. We're selling expertise to help our clients grow. And that's a cultural shift in the organization that I want to make happen. 

With decarbonization, digitalization and autonomy, maritime is at an interesting crossroads. What are LR America's priorities in the coming years?
This is really a dynamic regulatory environment, and the environmental concerns have radically changed. You see individuals in risk counterparties to deals asking questions they were never asking before, looking for counsel (on issues) that they were never asked before.
Traditionally, the maritime lending industry was always very staid and in the background. You weren't concerned who an owner's lenders were. You weren't concerned who an owner's main customers, charters, or beneficial cargo owners were. That has totally changed. All of these parties now need advice; to understand (and manage) the risk. So, the conversations have changed (among all key stakeholders to better manage risk).
That's the context of what's going on, and one of the biggest pieces of that, I think, is the digital world. How do I squeeze out efficiencies? How do I reduce emissions? How do I have compliance that's fair and equitable across the board? Digital technology help to do that (and more). If you think about charter party agreements, they're essentially unchanged for 300 years: "Get my cargo from A to B at a certain delivery date." Well, can we make that dynamic? Can the port send signals based on traffic that adjusts the charter party agreement electronically using data? These are the places where digital can really impact an operation. I have a unique perspective on digital as it leads into this change. I lived in New York for five years, and at the time I was in law enforcement, not the maritime world. At the time, New York City and Mayor Giuliani really wanted to drive down crime rates, so they instituted a tool called CompStat. Now CompStat is not horribly sophisticated by today's standards, but the idea was, for the first time I'm collecting data so I can understand relationships; when I do something here, what happens there? And now I can hold individuals or entire organizations accountable.
I think these are the places where shipowners are really looking to use digital. Charters are looking for this. Banks even want to understand now – with the Poseidon Principles – what's going on … how do we verify, how do we contribute? So, this is where I think digital is going to play out for this industry.

While COVID-19 has created many challenges, it has also created opportunities, particularly in the digital and remote work world. How has it, and how will it continue to impact class and the delivery of your services?
One of the biggest things is remote surveys. Of the approximate 30,000 surveys that we do in a year, about a third of those are done remotely via video feeds and remote inspections. This is where we're leveraging that technology to get the job done and to make it much more efficient.
You're going to see more and more digital data coming in from various engine OEMs and process equipment OEMs, digital data that's aggregated in a core platform that your class society will be able to use in the course of inspections and risk management.

As you settle into your new position, what are your priorities for the coming 12 to 24 months?
Immediate service to our clients to deal with (various rules and regulations coming in), from EEXI to the Poseidon Principles and Sea Cargo Charter. Owners, charters and banks need to understand managing that risk going forward so that they're not holding stranded assets, assets that can't perform under the new regimes. Second is the cruise industry. Getting our cruise clients up running safely is a key priority for us, and LR has the resources to help the cruise industry with their health and safety plans.
Recently LR announced the divestment of its business assurance and inspection services division. The idea is we really want to focus on what are our core ocean economy clients need. Where there may be overlap, we will still work together seamlessly with business assurance, but what this means for Lloyd's, and what it means for our clients, is we will be investing and reinvesting back into our operations, building those capabilities to do all those things I talked about, delivering bread-and-butter services well, helping customers with digital platforms as well as risk management going into the future.