Per Backteman
President, Scania USA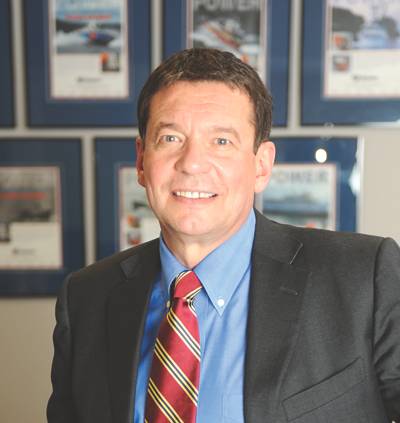 Please tell us about your background in the marine market?
I have been working with the marine market since 2002, when I started with Scania as Sales Director. As Sales Director, I had the responsibility for the industrial and marine engine sales and service globally, except for the Latin American Markets. In 2007, I joined Scania USA Inc. as President and with responsibility for the North American markets. Scania USA Inc. will begin to market industrial all speed engines for off road applications in January this year.

Scania has made tremendous strides in the U.S., yet it is a relatively new brand for this market. Can you please tell us what you see as the strength of your engines and organization?
We have an excellent product with many advantages, including weight to power ratio, fuel consumption, a modular system that saves costs for parts and training, and a one- man service concept that makes it easy to service or even rebuild our engines in an engine room. Our engines are made with a very high quality and are well known for excellent uptime. The service intervals for a Scania are normally longer than the competition can offer. Organizationally, Scania has increased within North America by more than 50% during 2010. This is due to a successful sales development and market response, and will enable us to introduce the industrial all speed off road engines in the market as of 2011. During this past year, we have built up an extensive service network for the industrial platform. Scania USA has a very flexible organization and that is something we know our customers appreciate.

Since you have entered the U.S. market in 2007, what have you found to be the most pleasant surprise in doing business here?
I am pleasantly surprised by how well the customers over here have responded to the possibility of working with Scania.  Today, we have client references in all type of applications such as passenger vessels, pilot boats, crew boats, supply boats, fishing boats and even the U.S. Navy and a number of other commercial applications.

What are the biggest challenge in doing business here?
Of course it is a challenge to sell a foreign brand in a market with very strong domestic manufacturing and well-known engine manufacturers. This was something I worried about in 2007, but today we know we can compete with the best.

You seem to have ridden out the recent economic storm well: where, by vessel sector, did Scania find success in the last couple of years?
Yes, we absolutely did. On the marine side we did an all time high in 2008. 2009 was a year when everybody suffered. Again in 2010, we did a new all time high which, of course, makes me very proud of our product, organization, and market strategy. I have high expectation for this year.

What do you count as the biggest challenge(s) to building, maintaining and growing a sales and service network in the U.S.?
We have been very successful with our professional network.  Scania will always strive to improve the development including marketing, sales, our service and products. We have worked extensively with this during the last three years, and it is very important not to get comfortable.  On the contrary, we will continue to grow and I expect us to achieve several all times highs in the coming years.

Please put in perspective for our readers the scope of Scania's U.S. operations, in terms of: Offices, service facilities, installations (engine numbers or HP).
Today, our marine network is covered by four major distributors. Each distributor has a number of dealers to cover the majority of the cost line for North America. We have our main office in San Antonio, TX and our central warehouse in Indiana to be able to support the whole network.  It is hard to know how many people are involved in the whole network, as our office mainly has direct contact with our main distributors and major OEM's.  In addition to this, we have the strength of the 34,000 employees at Scania and about 2,000 engineers at our R & D center In Sweden. When it comes to our new industrial network, we work with 13 major distributors and have a total of over 120 service points in North America. Our marine engines cover from 300 up to 850 Hp with the 2 engine versions, 12 liter inline 6 and the 16 liter V8.

Specifically, what types of vessels/installations are you targeting in the U.S.?
During the years 2007 and 2008, we realized that local references are a necessity in this market. Therefore our main focus was to get as many different applications as possible. We have been very successful with this goal and that has helped us to gain a well earned reputation as a reliable supplier to the marine market. Today, we are in the position to be able to sell to almost any marine application in this market, and that is also why we market our product in several different nautical publications to reach different user categories.

How has the current economic situation affected your maritime business push in the U.S.?
We continued working with sales and marketing throughout the financially hard times during 2009 as if nothing had happened. Even in an unstable market, we managed to reach a new all time high in 2010, and that is confirmation that this decision was the best we could make. We didn't panic but kept working as planned. This has helped us to gain the market back.

Can you point to a recent case that best indicates Scania USA's capabilities?
Just as an example, I would like to mention the M/V Trisha Kay operating in the Gulf of Mexico. This is a crew boat with a quadruple installation. The boat is 130 x 35 feet, and is repowered with four Scania DI 16 engines rated at 650 hp each. This has increased the total power by 600 hp, and has, also, increased the boat speed by over 20 % with only a nominal increase in fuel consumption. We got many new customers and applications during 2010.  Some of these engines have been recently installed, or are on their way to installation.  I would not want to mention any in particular at this stage. When the engines are installed and have some hours in operation, I would be very glad to come back and talk more about them.

Globally, how is Scania investing in its marine engine line-up today to secure its success tomorrow?
Scania is now in the process of launching a new engine platform for industrial engines for the new EPA industrial emission legislation. This means that we will be well prepared for the coming marine EPA Tier 3 legislation that comes into effect in 2014, as the new platform also by then will be used for the marine segment.

What do you count as the biggest challenges to your profitable marine operations?
All engine manufacturers needs to meet the legislation, follow the regulations and be compliant to be existent on the market. We see no problem for Scania with any of these challenges. When it comes to competition, our products have already proven the