Rear Admiral Wendi B. Carpenter, USN (Ret.)
President of State University of New York Maritime College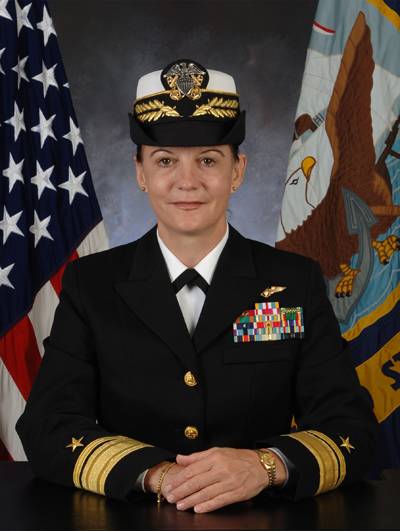 SUNY Maritime College is the oldest of all state maritime academies and today boasts the largest enrollment of any of the maritime schools and the greatest number of licensed graduates produced annually. Beyond the original mission, what changes do you foresee in the immediate future?
SUNY Maritime does have deep roots in that original mission, but I believe that there are a number of areas which are additive and complementary of that mission – particularly, if you consider that original mission in light of what I learned in my 34 years in the Navy - what we called  "specified and implied tasks" and "branches and sequels." As we are inclusive of other areas which we may not have in the past, we are assessing the environment (which has changed dramatically in the history of the school), and growing into an expanded calling. Think back to a time when the school was not awarding the bachelor's degree for example. Those with vision reached out to grab the future and embrace opportunity. That is what happened when the school added its first Masters program. We will continue to mature and grow in areas where there is opportunity, as it aligns with our mission and heritage, especially in areas that ensure we turn out the future leadership for this challenging global environment. SUNY Maritime College has a long history of producing maritime industry leaders, as well as leaders in the business world, our Armed Forces and other fields. We will continue to build on that leadership role as we reach out to create new strategic public-private partnerships.
We are engaged in a number of strategic projects that will pay dividends on behalf of not only the College, but we believe will make a wide positive impact, including on behalf of the industry. This will mean jobs and innovation. Among other improvements that we are making on the campus, we expect to open our new academic building in the 2012-2013 academic year.  And I look forward to increasing SUNY Maritime's role as a key player in the New York City and New York State arena, and the broader region, working together with public officials, business and civic leaders. Dialogues with such partners will be important as we develop strategic programs designed to contribute to and strengthen our city, state, region and nation's economy. I am very excited about the many opportunities that lie ahead.
 
Your undergraduate programs that allow for lower tonnage licenses and associate degrees are a departure from the usual "bluewater" emphasis at many maritime schools. Why did SUNY decide to move in this direction and what percentage of your license-track cadets opt for this route?
To better meet the needs of the maritime industry, SUNY Maritime College began offering two Associate Degree programs approved by the US Coast Guard.  They are: Marine Technology, Small Vessel Operations with a Limited Deck License and Marine Technology, Small Vessel Operations with a Limited Engine License.   Both are US Coast Guard approved and meet STCW requirements for Officer–In-Charge of a Watch.   Maritime's goal was to increase the number of trained maritime personnel able to serve in a variety of positions either afloat or ashore.
Maritime College's Associate's Degree in Applied Science (Deck) provides our students with a strong general education component coupled with professional training. A U.S. Coast Guard issued Merchant Mariner Credential allows students who successfully complete the program to work on various types of vessels such as tugboats, towboats, offshore supply vessels, dredges or passenger vessels. That includes dinner cruise boats, casino vessels, or sightseeing boats, afloat or ashore.

Since virtually 99 percent of all domestic mariner positions in the deck and engine departments today involve lower tonnage requirements, do you anticipate ramping up your limited license program ever more?
SUNY Maritime College's Limited Deck License program has advanced from a 200 ton to a full STCW approved 1,600 ton, US Coast Guard program and our Limited Engine License Program has advanced from a Designated Duty Engine License to a full STCW approved Assistant Engineer Limited (Oceans) License (for vessels up to 1,600 tons).  Both programs require extensive Cadet Internship and Cadet Observer requirements. These two programs, administered by the College, apply strong academic training with real world hands-on applications. Maritime College's programs are at a high level of available limited license programs and are respected throughout the industry. We anticipate strong growth for our new engineering program and steady growth in our deck program.

Talk about SUNY's commercial partnerships and how these enhance your programs and from where you are attracting students for your lower tonnage, limited license programs.
Maritime College is located in New York City, home to the largest port on the East Coast and maritime support services industry. The College's long partnership with the maritime support service has both enhanced our programs and served the industry and Port of New York in many ways. On a national level, Maritime College founded and hosts the annual Maritime College Towing Forum. Founded by Captain Eric Johansson 12 years ago, the event attracts top speakers and attendees from East, Gulf and West Coast operators. CAPT Johansson also has presented on the Standardization of Towing Nomenclature and is currently working on a Towing Vessel Glossary.  He was a member of the TSAC Ad-Hoc group for both NVIC 4-01 revisions and Sub-Chapter M.
In the New York City region, Maritime has a long established and active Towing Industry Advisory Board.  The Towing Board works with the College on curriculum development, industry needs and Towing Forum agendas.  Select courses in our academic program have valuable Cadet weekend internship requirements with our port partners.  All of our Limited License Programs have extensive Cadet Observers. In addition to working with our Cadets, our faculty also serves on the New York City Harbor School Professional Advisory Committee to prepare students for entry-level opportunities in the limited license sector.
As our program continues to grow, we are expanding our opportunities to the Small Passenger Industry Offshore Supply Vessel and other Limited License areas.  We are very excited about the strong interest that the maritime industry is showing in our programs. The majority of our students are from the East Coast. However, our student population in the limited license program also includes Cadets from the Gulf Coast. We would like to see more United States Coast Guard and Navy veterans take advantage of these opportunities by using their G.I. Bill Education Benefits.

The recent Wärtsilä engine donation to SUNY promises to enhance your engineering curriculum. Tell us a little bit about that and how it came about.
Wärtsilä's donation of the main components of a hybrid diesel propulsion system included a 6-cylinder Wärtsilä 26 medium speed diesel engine, reduction gear, a power take-in (motor)/ take-out (generator), related system equipment, tools, instruction manuals and instruction at Wärtsilä's Land and Sea Training Academy in Fort Lauderdale Florida.
Maritime's engineering department was in need of a state-of-the-art diesel engine lab – a vital tool for our engineering students. As we began our outreach efforts, Wärtsilä stepped forward and said that they would like to donate the equipment and begin a lasting public-private partnership with SUNY Maritime College.  In October, the installation was completed and we celebrated our new association by joining together for a gala Closing Bell Ceremony at NASDAQ in Times Square.
We look forward to working closely with Wärtsilä for many years to come. Their executives have shown great vision and the strength of our new partnership is evident. To witness this level of support and the tangible investment for today, as well as the promise for the future, is a great encouragement. It shows truly a high level of what I consider corporate responsibility and should be the role model which I would think many companies would strive to emulate.  I can tell you it certainly resonates with our students in a way that extends beyond the tangible gift.  Many times today companies or their leaders say one thing, but do another.
 
SUNY has been educating women for a long time. What percentage of the student body today is female and what you can do (and are doing) to increase that population – and other minority, non-traditional candidates?
I think the right answer is "not enough yet."  Statistics show that a more diverse population brings a stronger ability for critical thinking and measured success in many areas. For example, I read recently that a study has shown corporations with women board members are more profitable and the companies generally act more ethically. As we work to create a more diverse community within the SUNY Maritime nation, our students will be better prepared to work in a global environment that is also increasingly diverse. It is not only important to increase the number of women, but we must also increase the number of minority students as well. We are developing a strategic plan that will allow us to meet those goals. As we diversify and expand our reach into new markets, I anticipate that we will also discover and acquire new curriculum opportunities as well as internship and employment avenues for our students.
We are actively reaching out to attract more women, minorities and non-traditional candidates for our undergraduate programs. And, we also need to reach out to young and mid-career adult women and minorities in the business world, who may never have considered the maritime industry as a career. Maritime's graduate program in International Transportation and Trade provides a bridge from many shore-side non-maritime fields to the maritime industry.
Lastly, with a newly faculty approved minor in law, as well as other fields, I think much of what we do connects to the broader transportation, business and commercial sectors in ways that may not be obvious.  The license programs are a bedrock of our education and leadership development in so many ways, and going back to your original question, represent historical mission focus areas and a part of who we are in the SUNY Maritime nation.   But, I think connecting that with the broader opportunities opens up in so many other sectors in an important way.