Rob Mecarini
President, Alpine Ocean Seismic Survey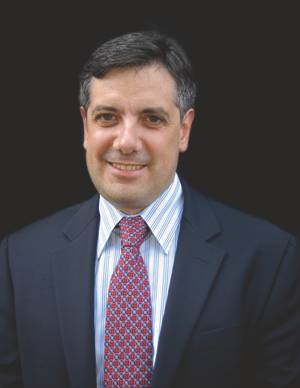 Please tell us a bit about yourself, and specifically how you got into the maritime business?
My first job out of college was in non-profit fundraising, but it didn't take me long to discover I didn't want to be stuck behind a desk! I asked my father, Gino Mecarini, for a temporary job in order to clear my head.  He shipped me off as a deck hand on one of Alpine's vessels, and I have never looked back. In my 20 years with the company, I've traveled all over the world, and have done just about every job we have. This summer, my father decided to step back on his day-to-day responsibilities, and I took over his role as President.

Tell us about Alpine Ocean Seismic Survey.
Alpine provides a full range of marine surveying and data collection services, including geophysical, hydrographic, oceanographic, geotechnical, environmental, and positioning. We've worked on thousands of projects for oil and gas, civil engineering, cable, submarine, shoreline protection, and – more recently -- offshore renewable energy. Alpine has been around since 1957 and my father purchased the company 25 years ago. In 2009 we sold a controlling share to another family-owned company – the Gardline Group, which is based in the UK and is the largest privately owned survey company in the world.  We consider family ownership a strength, as it enables us to take the long-term view rather than focusing on quarterly profits. We have about 20 employees here in the States, and we can draw on the 1,000 employees of Gardline as well as many long-term partners.

What do you count as the company's primary strengths?
We have the resources of a very large company, but we offer very personalized service. We are great at delivering a turnkey package – if our team doesn't offer the service, we can find the right subcontractors, manage the job, and integrate the entire process. We make it easy for our customers. We also have global expertise – while we know the US very well, we have more than 50 years of international experience and global assets, which has been strengthened by our relationship with Gardline. In the States, we are particularly well-positioned on the eastern seaboard and in the Gulf of Mexico with our new vessel, the R/V Shearwater. It is a 110' x 40' aluminum twin hull that sleeps 20, and provides great positioning and line-keeping capabilities.  The vessel is outfitted with two moon pools, A-frames, and a crane, giving us the ability to deploy a variety of specialized equipment for any job, near-shore and offshore. We launched the Shearwater this year, and have already done jobs on the East Coast and the Gulf Coast. Clients love the spacious quarters, the onboard laboratory, as well as the flexibility it provides for undertaking their projects.

We understand that you have an interesting capability for shallow/freshwater survey.
We introduced a new line of camera technology to the States, developed by Gardline, including a freshwater lens system. It's specially designed to capture clear images in highly turbid conditions, which are common in both shallow ocean and fresh-water environments. It uses a distilled water lens and adjustable lighting, and opens up many areas where traditional underwater video and photography just don't work. The Shearwater is also a great asset for these environments. The hydraulic propulsion system offers excellent maneuverability essential in rivers and shallow waters, and its shallow draft allows us to access areas off limits to other vessels its size.

Looking at the marine data collection market today, where do you see opportunity and why?
One of the big areas of opportunity is in energy redistribution, which requires the installation of submarine cables to carry energy from the area of generation to the area of power use. Alpine has been a key player in the majority of major HV cable projects recently completed in the US.  Down the road, renewables in the Northeast is going to be a big factor. We also are looking to expand our environmental and geotechnical services by bringing to the US market Gardline's unique capabilities. Regionally, our growth is the strongest on the eastern seaboard, but we see a lot of potential for us in the Gulf of Mexico and West Coast.  We also do a lot of work in the Mediterranean, since we have an office in Italy, and we've found the Israeli market to be particularly active for us in that region.

What do you count as the most important technological advances that have allowed you to conduct your operations more safely and efficiently?
This will really date me, but GPS has been a game changer in terms of efficiency and safety. Before GPS, you had to set up networks of ranging equipment to get precise positioning. It was time consuming and not very reliable. GPS made positioning so much more reliable, efficient, and – ultimately -- accurate. Alpine was one of the first companies to use GPS for offshore survey work and we've never looked back. 
Another advance has been the digitization of data. When I started, everything was on paper, with fix numbers that correlated to data collected with your nav system. You had to extrapolate everything by hand. Now all the data is geo-referenced in real-time – it is so much quicker. Forty years ago, we had two whole buildings devoted to data reduction and mapmaking – now, because of digitized data and powerful processing software, we have one large room.
From a safety standpoint, there has been a huge increase in awareness of the importance of health and safety procedures. When people know, respect, and follow the procedures, you have a much safer and more efficient operation.

What technologies do you see on the horizon that hold the most promise to make this business more efficient?
I think that autonomous underwater vehicles (AUVs) hold a lot of promise in certain environments, particularly in engineering survey work. Right now, the cost of these systems is high and availability is scarce, so they tend to be used in deeper waters. As the technology develops and economies of scale are achieved in the manufacturing process, prices will come down -and their increased use will likely make the industry more efficient. Other innovations include the ongoing improvement in the data collection and processing equipment we have at our disposal. The speed at which you can capture, process, and parse the data is increasing geometrically. That reduces costs – the faster you can collect data, and the more efficiently you can process it, the lower your expenses.

How has Alpine invested in the past year (or coming year) to enhance its services?
The R/V Shearwater was a big investment for Alpine, but we feel it brings the company to a new level. We don't think there is another commercial vessel like it on the eastern seaboard, and we believe it will be in high demand. We also have started to invest in very high-resolution multichannel equipment to service offshore renewables foundation design. This equipment is particularly important on the eastern seaboard because the combination of water and turbine foundation depths, as well as local geology, results in multiples in the data. These multiples make it hard to see subtle changes in the geology. The only way to solve the problem is by collecting multi-channel data, which allows you to process out most of the multiples. 
We also continue to invest in data processing and presentation software.  One of our latest initiatives is GIS software used to build updatable databases for storing and viewing, in a myriad of ways, project data sets over time.  This is a very useful tool for any project that has a long life span (cables, pipelines, wind farms, etc.) and where ongoing monitoring and maintenance is critical.  We are also investing in rolling out new services we can provide through Gardline – it has a very strong environmental data collection program and is the second largest offshore geotechnical services company in the world.

What do you consider to be the biggest challenge to running your company today?
I think probably anyone in business today would say the biggest challenge is the volatility and uncertainty in the market. For oil- and gas-related work, when prices go up, we get more work. When they go down, we slow down. Renewables work is based on whether or not a project can attract investors, and can demonstrate clear demand for its output, so the condition of the economy, the clarity of permitting routes, and the long-term energy policy of the country have a large impact on how projects progress. I think it's clear that the offshore renewables market will not truly take off until there is a clear legislative path for permitting and a long-term energy policy with bankable incentives and production goals that will attract investors. The power cable market is similar -- projects are backed by investors, and need demonstrated demand. It is really challenging for us to determine how to staff up for the long term, because it is hard to predict the market and its needs. This is a very capital-intensive business, so it can be hard to make long-term projections on equipment needs. We go through some dramatic swings, but we are lucky to have a parent company willing to support us through the lean times. That really helps us focus on a long-term plan.

What do you see on the Legislative front, either nationally or locally, that you believe holds the biggest promise to help your business in the coming years (i.e. the proliferation of offshore windfarms?)
I'd turn that question around – one of the biggest threats that the industry faces is that our country has no clear long-term energy policy. This impacts investment, particularly in the renewables market, in two ways: investors don't like uncertainty, and they need the financial incentives and clear power-generation goals this type of policy will provide. A clear commitment and a long-term roadmap would be a plus for our industry. Another issue, especially in the renewable sector, is regulatory permitting, which needs to be streamlined and in some cases clarified. Our ability to work on projects is based on developers getting permits. We also would like to see both state and federal government invest in more infrastructure projects such as bridges, tunnels, seawalls, and beach reconstruction. In some cases, there is federal money for projects, but the states can't afford the matching funds.

Can you share with our readers one or two case studies that you feel best exemplify Alpine's capabilities?
One example is the TransBay cable project in California. It was multidisciplinary, required us to manage a number of subcontractors, and we worked on it from end to end. We started with the desktop study, which is where we conduct research to find out as much as possible in advance about the geology, the permits, and other issues so that the design of the final route is as informed as possible. We did the survey work and sediment sampling. We coordinated with everyone from land surveyors to diver operations. We provided the positioning for the barges and coordinated the data for the cable installation. It was a very challenging site – the river merged with the bay, so we had both fresh water and salt water, strong currents, and a complicated tidal regime that required us to develop specific tidal models.
Even though the installation is complete, we're still involved: we do the yearly inspections of the cable, and are working with the client to develop an interactive database that they can update as the years go on. That is a great example of our capabilities – we worked on that project from design, through installation, and to ongoing maintenance and caretaking. Working on a project from end to end is one of our strengths.
Another project that highlights our capabilities are the two Fishermen's Energy wind farms, located off of the coast of New Jersey. Alpine did the survey work for the meteorological tower for its offshore site that was subject to BOEMRE regulations, and also performed the survey for the demonstration site that was subject to state regulations. Because of the lack of clarity in some of the survey requirements for permitting, Alpine had to work closely with Fishermen's to provide them with what they needed.  We were one of the first contractors to conduct multi-channel data collection for an offshore wind project, and worked with an equipment manufacturer to provide them with feedback on their new high-resolution system. We are very proud of the commitment and support we showed the project through its ups and downs. Now, we are supporting the developers in pre-construction, and hope to continue with them for a long time.