James Rhodes's Profile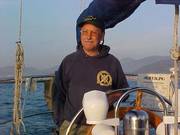 j*****s@rhodescomm.com
Public: Yes
Receving Updates: Yes
Employment Status
Company Employee
Professional Interests
Corporate Communications, Harbor Patrol, Marketing (Marine), Navigation / Communication Equipment, Operations, Positioning Devices, Safety & Fire Protection, Sensors & Transducers, Shipboard Electronics & Automation, Simulators & Trainers, Telemetry Systems, Transponders, Weather Routing
Trade Events
CMA, Advertise, International Workboat Show, MACC, Norshipping, Sea Air Space, Seawork, SMM, SNAME
Associations and Organizations
IMAREST, National Marine Electronics Association, RINA
Blogs
In an op-ed column published today in Defense News, two former MarAd administrators argue persuasively for maintaining a robust U.S. flag fleet as a key element in national security. They call for support of a bipartisan bill introduced in Congress…
Executives from 20 shipping companies and 40 expert panelists will share case studies on improving efficiency in ship operations with an expected 100 registered delegates at the 2013 SHIPPINGInsight Fleet Optimization Conference, at the Sheraton Stamford Hotel in Stamford, Conn., Oct. 22-24.
After a steady diet of stories in the maritime trade press about shipping companies teetering on the verge of insolvency, it was refreshing to read the latest news from Neptune Orient Line (Lloyd's List, Sept. 2). The Singapore-based shipowner…
If you want a snapshot of the state of the shipowning business, just look at the headlines in the August 16 issue of Lloyd's List, reporting on quarterly earnings reports from publicly held shipowners. Stephen Chen, spokesman for Taipei-listed U-Ming, summed it up nicely.
There are indications that the shipping industry is starting to emerge, however tenuously, from the doldrums of the last six years, but signals are mixed. Moore Stephens reported in June that shipping confidence has risen to its highest point since 2010.
The producers of SHIPPINGInsight Conferences have announced that Anthony Chiarello, president and CEO of TOTE, Inc., will be the keynote speaker at the 2013 Fleet Optimization Conference, October 22-24, in Stamford, Conn. TOTE has placed orders for two new LNG-powered containerships at NASSCO…